Row 330 added to
Column A: November 05, 2019 at 09:43PM
Column B: A-Tier Schedule Release Helps Fill In Tour Routes
Column C: https://ift.tt/2JSDXcv
Column D: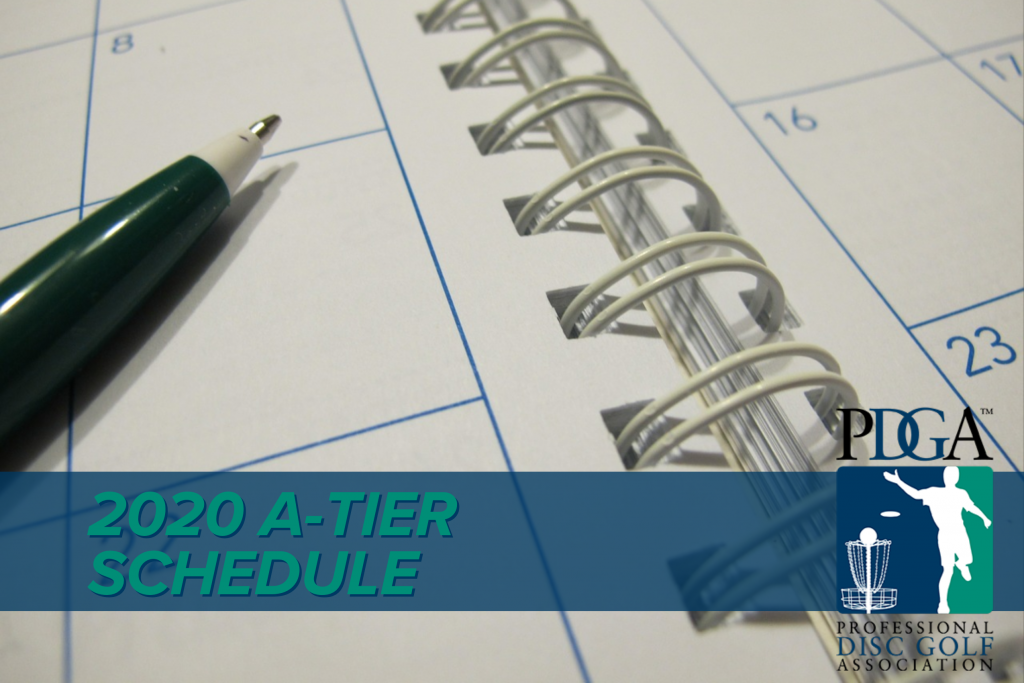 With the PDGA's release of currently sanctioned1 A-tiers for the upcoming 2020 season, we're able to start filling in the bye weeks between Disc Golf Pro Tour, PDGA National Tour, and Majors to see where the pros may be battling for an extra payout.
Here's a handful of events to keep your eye on.
Las Vegas Challenge, February 20-23
The LVC may not be opening the NT year anymore, but Jeff Jacquart puts on a good event and the four round tournament could be the perfect warm-up in the desert before the following weekend's Memorial Championship in Arizona.
The Open at Belton, March 20-22
Sandwiched between the Waco Annual Charity Open and the Texas State Disc Golf Championship, The Open already had a decent turnout last season and will benefit from the extra NT traffic.
Florida Swing – Throw Down The Mountain, March 20-22; Jacksonville Open, March 27-29; Open at Tallahassee, April 3-5
This would require missing some elite events in Texas, but we saw Calvin Heimburg and Ellen Widboom rack up a couple Ws on the route through the Sunshine State.
303 Open, May 8-10
While traveling between the Glass Blown Open and Santa Cruz Masters Cup NT stops, pros will be able to pit in Colorado for an A-tier. Last season the 303 was one of the DGPT's Test Events.
Twin Falls Classic, June 6-7
If anyone is looking to stay sharp before Pro Worlds, Twin Falls is less than three hours from Ogden.
Silver Cup XX, July 10-12; CCR Open, July 17-19
For those not traveling to the European Open the midwest has a couple good options. We're interested in the 20th edition of the Silver Cup and another 2019 DGPT Test Event, the CCR Open, as potential draws.
Brent Hambrick Memorial Open, July 31-August 2
The BHMO has a storied history, and being in the route between Michigan and Kentucky means 2020 could be the year we see a big return to the Ohio event.
The Greater Hartford Disc Golf Open, August 21-23
The Pittsburgh Flying Disc Open the same weekend would break up the drive from Ledgestone to Maple Hill a bit better, but we'd like to see pros go straight to New England and give the area another high profile event.
Stafford Open, September 18-20
A minor backtrack to New Jersey from Delaware, and it still leaves a long drive to the NT finale in Nashville the next weekend, yet the Stafford Open looks mighty attractive. It already pulls in a good touring crowd so 2020 should be no different.
Carolina Clash, October 2-4
LET'S MAKE IT THREE CHARLOTTE-AREA WEEKENDS IN A ROW! It's right after the Music City Open and the weekend prior to USDGC down in Rock Hill.
Myrtle Beach Open, October 23-25
An easy drive from Charlotte by disc golf tour standards, MBO could be the perfect end of season cool down.
---
A-tier applications due December 1, 2019 ↩
The post A-Tier Schedule Release Helps Fill In Tour Routes appeared first on Ultiworld Disc Golf.
Column E: Ultiworld Disc Golf
Column F: https://ift.tt/2hDeyUK
Column G:
Column H:
Column I:
Column J:
Created November 5, 2019 at 11:34PM
View Google Sheet