New Website & Ongoing Care for Garen Wolf School of Music
The Garen Wolf School of Music (GWSM) is located in Cincinnati, Ohio and focuses on training Christian musicians to play with excellence in local churches and schools.
Their week-long camp provides opportunities for students to develop musically under excellent music professionals.
Camp Director, David Hartkopf, helps run the event each summer providing group band and orchestra experiences in both sacred and classic literature as well as enrichment activities like master classes, sectionals, chamber groups, choral groups, and individualized instruction.
Here's what David had to say about the project:
As a non-profit organization, we are always concerned about cost. Additionally, I didn't want to have to repeatedly check in with someone to make sure progress was being made. On both fronts, Stewardship Digital met our needs. They put together a package within our budget and gave us an honest quote up front that didn't include hidden extras.

Stewardship Digital's services were both high-quality and affordable. Throughout the process, they were flexible in working with our team, our needs, and produced work in a time-efficient manner. We were able to launch several weeks before a major event and advertise our new and better website.

I chose Stewardship Digital after several conversations with Jason Weed. I looked at their work, liked how intuitive the pages they designed were, and found them easy to work with. Initially, he reviewed our current website with me, and pointed out some opportunities for improvement. I was appreciative that although he was trying to gain us as a customer, he wasn't pushy or overly negative about our current setup.

They were affordable, produced quality work, and met our needs. One specific thing I valued was that they built a site that met our needs and budget, and didn't oversell something to us that we didn't need. We are satisfied customers and will continue to recommend Stewardship Digital to other businesses and nonprofits.

1810 Young Street, Cincinnati, Ohio 45202
How we helped the Garen Wolf School of Music
Hosting their domain & website
Executing professionally designed layout
Developing both mobile-friendly & desktop-friendly versions
Optimizing all their images
Speeding up their website with software caching
Connecting Google Analytics for valuable insights
Securing their website from attackers
Creating a camp registration workflow from website to email and Google Sheets
Ongoing editorial maintenance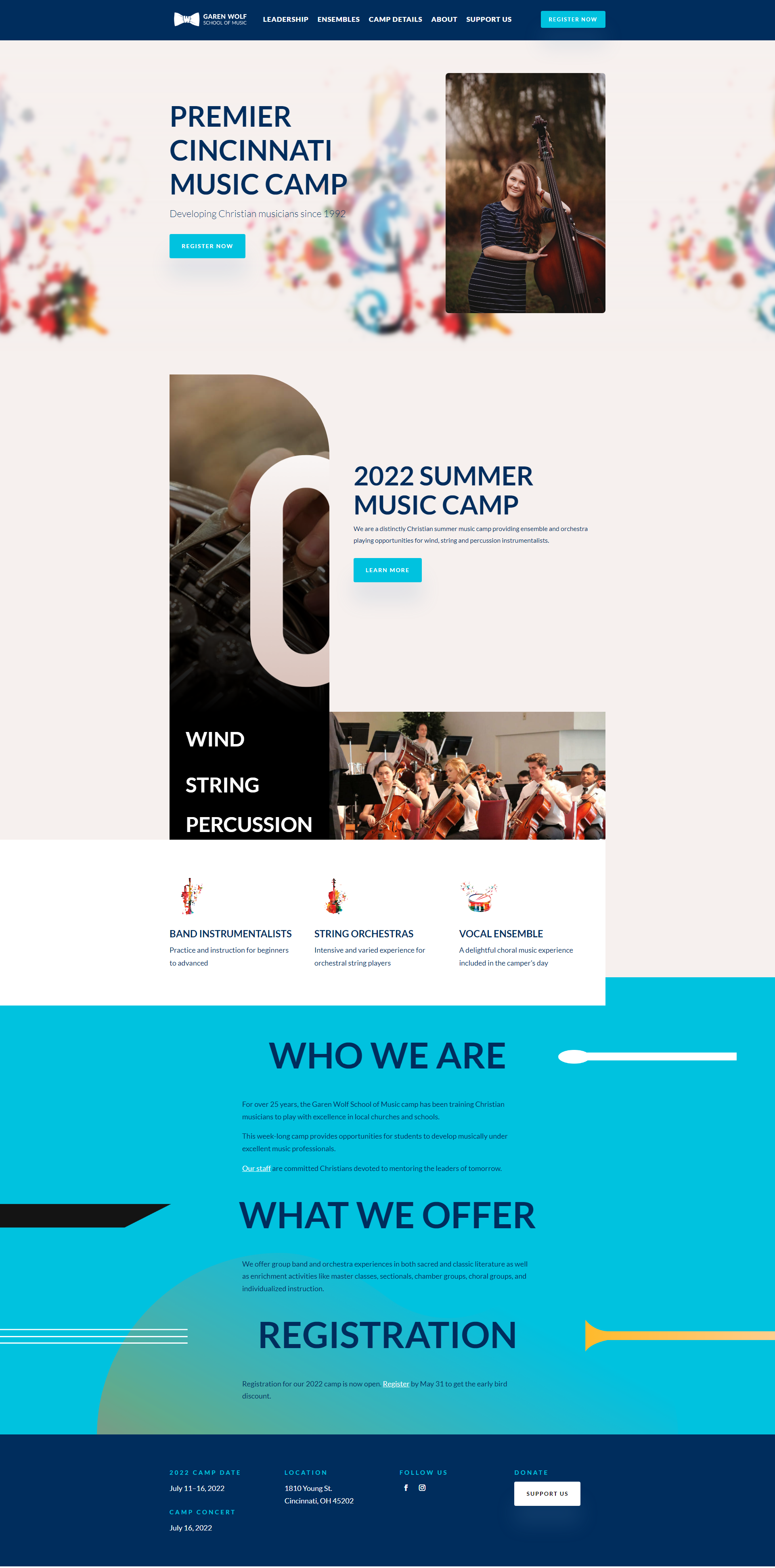 Garen Wolf School of Music (homepage)